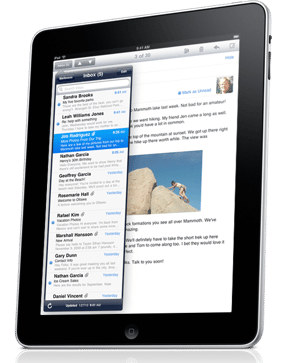 1. Its success will rely on the apps that developers make for it.
They've been given the SDK so many are hard at work to have apps out for the March launch. If the iPhone's history is anything to go by there will be some mindblowing applications. Only then will potential buyers see the device's true potential.
Also, Adobe are upping the pressure on Apple to adopt Flash support which would open up a lot of content to users.
2. It will take at least another version to become a must-have, game-changing product.
Again, this draws partly on experience with the iPhone. With Apple's revolutionary mobile telephone, it took annual revisions based on what users were clamouring for, and what hackers were building into custom firmware, to arrive at the 3G and 3GS. I predict the inclusion of a camera in the next iteration as frankly I was amazed that the iPad wasn't launched with one. Some might say that holding back such features is a cynical strategy on Apple's part to sell more units to an avid fanbase who'll happily fork out for every new version.
See you in the queue on launch day 😉
Want to learn new creative and marketing skills with me? Check out upcoming courses on topics like SEO, content marketing, copywriting and podcasting.
---
Did You Enjoy This?
You might like my weekly newsletter. I write about the most interesting things I've found or learned this week to help my readers stay on top of trends in technology and media.